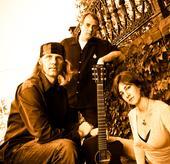 Band Members:
Lani Williams:     Vocals and Guitar
Joe Hart:             Guitar and Vocals
Lenen Nicola:     Percussion and shaky toys
Kevin Silva:         Keys and vocals
Roger Osburn:    Bass and vocals
Glen Hopkins:     Drums and craziness

Mars or the Moon is giving, not only the music world but, the thinking world a glimpse into the mysteries and intricacies of love with their stellar debut album The Price of Love.

Mars or the Moon is the brainchild of musicians Joe Hart and Lani Williams. The duo began writing together before adding prolific percussionist Lenen Nicola.

Hart named their project after describing his musical experiences to a friend. His radio was his salvation that sounded like transmissions from another world like Mars…or the moon.

The group's debut album is a hearty slice of Singer-Songwriter, Roots Rock, Psychedelic Folk Americana with a hint of Soul.

The trio is often joined on stage and in the studio by keyboardist Kevin Silva, bassist Roger Osburn and drummer Glen Hopkins.

Influences: Dylan, Young, The Replacements, Emmy Lou Harris, The Who, Zap Mama, Eyrkah Badu, Bob Marley, Live, Counting Crows, Tori Amos, Concrete Blonde, X, Jimi Hendrix, Zepplin, Elvis Costello, Santana, Doc Watson, Willie Nelson, Cash, Zappa Family, Beatles together and solo, Marc and Eric Johnson, Michael Hedges, The Wallflowers, The Grateful Dead, Branford Marsalis, Sun Ra, James McMurtry, Stevie Wonder, Ryan Adams, Stevie Ray Vaughn, Charlie Sexton, Social Distortion, John Hiatt, Ken Kesey, Sherman Alexie, Bradford Keeney, Vernon Reid, Steve Vai, Springsteen, Indigo Chicks, Joni Mitchell, Tuck and Patti, Ray Lamontange, Foo Fighters, Smashing Pukeheads, Patty Griffin, Gillian Welch and David Rawlings, Don Miguel Ruiz, St. Francis, Guatma Buddha, Jesus, Hafiz, Bukowski, Stephen Crane and many more coming soon.